IAEA Sets Process For Sending Iran To Security Council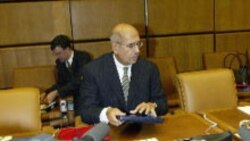 IAEA chief Muhammad el-Baradei (file photo) 24 September 2005 -- The board of governors of the International Atomic Energy Agency (IAEA), meeting in Vienna, passed an EU-sponsored resolution today that sets up a mechanism for referring Iran to the UN Security Council.
The IAEA, the UN's nuclear watchdog, said in the resolution that there was "an absence of confidence" that Iran's nuclear program is exclusively peaceful.
The resolution did not set a specific date for referral to the Security Council. Diplomats said the move will not come until November at the earliest, after IAEA chief Muhammad el-Baradei delivers his next report on Iran.
The United States hailed today's result. But the vote illustrated the divisions that continue to split the IAEA. Twenty-two countries voted in favor of the resolution, with one -- Venezuela -- voting against and 12 abstentions. Usually, IAEA resolutions are passed by unanimous consensus.
China and Russia -- with veto power on the UN Security Council -- were among those that abstained from today's vote.
(international agencies)
For more on Tehran's nuclear activities, see RFE/RL's webpage Iran's Nuclear Program