Ambush Wounds Top Serbian Policeman In Kosovo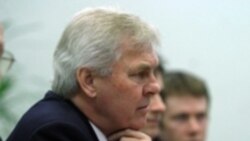 The international community's representative in Kosova, Soren Jessen-Petersen, called the attack "cowardly" 29 September 2005 -- Reports say a top Serbian police official in eastern Kosovo was wounded in an attack yesterday.
Colonel Dejan Jankovic, the commander of the Gnjilane regional police and the highest-ranking Serbian policeman in Kosovo, was recovering following surgery related to gunshot wounds he sustained in an ambush on his car.
Belgrade media quoted Jankovic as saying that fire was opened on his car in a "classical ambush" on the Gnjilane- Kacanik road. His driver was also slightly injured.
The UN administrator of Kosovo, Soren Jessen-Petersen, issued a statement in which he condemned what he described as a "cowardly attack."
Kosovo has been under UN administration since a NATO intervention against Yugoslavia drove out Belgrade's security forces in 1999.
(dpa)
[For more on Serbia and Montenegro and Kosovo, click here.]