EU Fails To Agree On Membership Talks With Turkey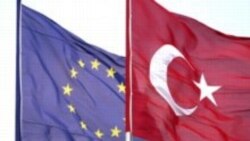 29 September 2005 -- European Union ambassadors meeting in Brussels today failed to agree on a framework for opening membership talks with Turkey after Austria reportedly insisted that Ankara be offered something short of full membership.
Turkey was scheduled to open accession talks with the EU on 3 October, but diplomats said Vienna today stuck to its demand that Turkey be offered the option of a lesser partnership rather than full membership.
Austrian Chancellor Wolfgang Schuessel, in an interview printed in European newspapers today, had said talks with Turkey should only start if stalled membership talks with Croatia are also restarted.
EU president Britain summoned EU ministers to emergency talks on 2 October -- just hours before Turkish Foreign Minister Abdullah Gul is scheduled to depart for EU membership talks the next day in Luxembourg -- to try to overcome the impasse.
(AP/AFP)
[For an archive of RFE/RL stories on EU expansion, see our special European Union Expands Eastward page.]