Belarusian Opposition Names Candidate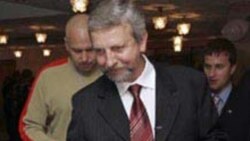 Alyaksandr Milinkevich Minsk, 2 October 2005 (RFE/RL) -- Allied opposition activists in Belarus today named a single candidate to challenge President Alyaksandr Lukashenka in next year's presidential election.
RFE/RL's Belarus Service reports that after a tight vote, Alyaksandr Milinkevich was selected as the opposition candidate for next summer's vote with 399 votes.
Milinkevich is a former deputy chairman of the Hrodna regional executive committee and currently heads a nongovernmental organization.
Anatol Lyabedzka, the chairman of the opposition United Civic Party, received 391 votes.
Some 790 delegates from Belarusian opposition parties and nongovernmental organizations attended the two-day Congress of Democratic Forces in Minsk.
The united opposition has chosen a red tree on a white field as its emblem.
See also:

More news and analysis on Belarus