Iraqi Minister Speaks About Brother's Abduction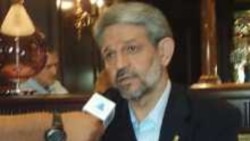 Bayan Jabr (file photo) 2 October 2005 -- Iraq's interior minister says he believes his brother's abduction yesterday was meant as "pressure."
Bayan Jabr's brother was kidnapped on Saturday by gunmen in Baghdad. His whereabouts are unknown.
Jabr made his remarks in Amman, where he is meeting his Jordanian counterpart for talks on joint security measures. Jabr also told Reuters news agency he has evidence that foreign fighters in Iraq are planning to shift insurgent activities to neighboring countries.
"They are leaving Iraq not for an increase or decrease [in their numbers in Iraq]. They are leaving Iraq to transfer their experience to other countries. [Because of] that, we will see more [insurgents] in other countries," Jabr said.
Some 1,000 U.S. troops today are continuing a major offensive launched Saturday near the Iraqi-Syrian border.
The U.S. military says eight insurgents have been killed so far in Operation Iron Fist. It has not reported any U.S.
deaths.
The offensive comes two weeks before a national referendum on a new constitution 15 October.
(AP/Reuters/dpa)
See also:

RFE/RL Special: Iraq Votes 2005