Iraqi Parliament U-Turns On Referendum Change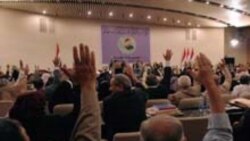 Iraq's National Assembly (file photo) 5 October 2005 -- Iraq's parliament today voted to reverse a controversial change it made to rules for next week's referendum on the country's draft constitution, easing fears that the late-hour alteration made the referendum a foregone conclusion.
The amendments were criticized by the United Nations, as well as the United States, for not meeting international norms.
The rules would have made it harder for opponents to defeat the draft constitution at the polls in a referendum on 15 October. Many Sunnis oppose the charter, believing it would divide Iraq and leave Shi'ites and Kurds with control over Iraq's oil wealth.
Earlier today, Iraqi President Jalal Talabani, speaking in Prague, defended the parliament's right to make the changes to the voting rules. (For more on Talabani's comments today and throughout his current European visit, click
here
.)
(RFE/RL /CNN/BBC/AP)