Bosnian Serb Parliament Adopts Crucial EU Demand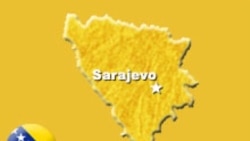 6 October 2005 -- The parliament of Republika Srpska -- the Bosnian Serb entity that along with the Bosnian-Croat federation composes Bosnia-Herzegovina -- yesterday adopted a decision to transfer all police responsibilities from the entity to state level.
The decision fulfilled a key condition for bringing Bosnia closer to integrating into the European Union.
The measure, aimed at establishment of a statewide police in Bosnia, was passed less than 24 hours before the deadline given to Bosnian Serb authorities to decide whether they would accept the reform or face isolation.
The other entity of Bosnia-Herzegovina -- the Bosnian-Croat federation -- has already accepted the EU's demands.
Each entity has been controlling its own police forces since the end of the 1992-95 war in Bosnia.
(dpa/AFP)
For more on events in Bosnia-Herzegovina, click here.