EU Enlargement Commissioner In Turkey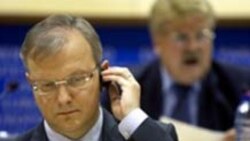 Commissioner Rehn (file photo) 7 October 2005 -- European Union Enlargement Commissioner Olli Rehn is due to conclude a two-day visit to Turkey on its membership bid in the bloc after again visiting with Turkish Foreign Minister Abdullah Gul.
On 6 October, Rehn said there is still much Turkey must do "to reach European values and European standards." Rehn told Gul that human rights, women's rights, and the rights of religious communities and trade unions must become what he called "an everyday reality in all walks of life" in Turkey.
Gul assured Rehn that his government is committed to effective democratic and economic reforms, and guaranteed that Turkey will achieve EU standards at "every level."
Turkey officially
opened EU membership talks
on 4 October.
The talks are expected to last 10 years or more.
See also:

EU Expands Eastward
(Reuters/dpa)