Southern Iraqi Governor Criticizes U.K. Forces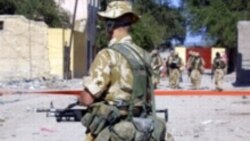 A British patrol in the city of Al-Basrah (file photo) 8 October 2005 -- The governor of southern Iraq's Al-Basrah province said today that British forces are compromising security efforts by conducting "random" raids and making arrests without coordinating them with Iraqi security forces.
Muhammad al-Waili's comments came one day after U.K. officials said they had detained 12 men suspected of attacking British forces.
The head of Iraq's state-run Southern Electricity Company, Mutar Muhammad, said the 12 include the head of the city of Al-Basrah's state-run electricity distributor.
He threatened that employees of his company would start a general strike if the man was not released within 24 hours.
(AP)
See also:

U.K. Official Accuses Iran Of Role In Iraqi Violence