Iraqi Sunnis Urge 'No' Vote In Referendum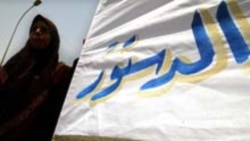 Emotions run high as Iraqis prepare for the 15 October vote (file photo) 8 October 2005 -- Iraq's Sunni Arab leaders today failed to agree on whether to call for a boycott of next week's referendum on the draft constitution, but a statement released after a key meeting in Baghdad urged those who decide to vote to reject the document.
Major Shi'ite and Kurdish representatives support the document, but opponents can defeat the document if two-thirds of participating voters oppose the constitution in any three of Iraq's 18 provinces.
Also today, Iraqi authorities announced measures intended to reinforce security during the 15 October referendum.
Interior Minister Bayani Baqir Soulagh said the measures include a curfew from 13-17 October, the hours of which were not specified.
International borders will be closed with the exception of commercial and medical traffic. Air and sea ports will also be closed, but the extend and the duration of the closures were not specified.
(compiled from wire reports)
For more on Iraq's coming referendum, find all RFE/RL's related coverage and background on our Iraq Votes: Constitution Referendum page.