Two Senior Al-Qaeda Members Arrested In Iraq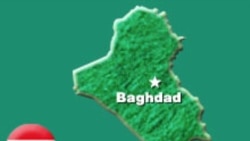 15 October 2005 -- The U.S. military said today it captured two senior Al-Qaeda members in Iraq, including a man known as "The Barber."
The statement said Walid Muhammad Farhan Juwar al-Zubaydi was seized in a Baghdad raid on 24 September. He allegedly helped top militants evade detention by transforming their appearances.
Also captured was Ibrahim Muhammad Subhi Khayri al-Rihawi, also known as "Abu Khalil." He allegedly acted as a banker for Abu Azzam, considered Al-Qaeda's No. 2 in Iraq after Abu Mus'ab al-Zarqawi. Azzam was killed in a raid in September.
(AFP)
For the latest news and analysis on Iraq, see RFE/RL's webpage on "The New Iraq".