U.S. Military Says 70 Militants Killed In Iraq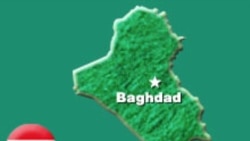 17 October 2005 -- U.S. military officials say an estimated 70 militants were killed yesterday in western Iraq.
U.S. helicopters and warplanes bombed two villages near the city of Al-Ramadi, which is considered a center of the Sunni Arab insurgency.
Military officials say all the dead are militants. But some witnesses said there were civilians among those killed.
The air strikes came after a bomb killed five U.S. soldiers on 15 October in a village near Al-Ramadi. A sixth U.S. serviceman was also killed the same day.
The violence came as Iraqis cast their votes on 15 October in a referendum on a draft consitution widely opposed by Sunnis.
More than 60 percent of Iraqis turned out for the referendum. Early vote counts appeared to indicate the document has passed.
(news agencies)
For RFE/RL's full coverage of Iraq's constitutional referendum, see "Iraq Votes 2005"