Jewish Cemetery Desecrated In St. Petersburg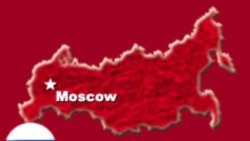 17 October 2005 -- Vandals have desecrated a Jewish cemetery in the Russian city of St. Petersburg for the second time in 10 days.
Police have launched a criminal investigation into the latest incident at the 300-year-old Preobrazhenskoe Cemetery, in which at least 50 gravestones were pushed over and smashed yesterday.
Menachem Mandel Pevzner, the chief rabbi of St. Petersburg, told Reuters news agency that the double attacks appear to be more than ordinary vandalism.
"For any normal human being, it is really distressing to see what is going on at the cemetery," he said. "It happened for the first time last week and we thought maybe it was just hooliganism. But now we see it again, so it's clear that it's something more serious."
An Israeli government report has ranked Russia third -- after France and Britain -- for instances of anti-Semetic
violence.
(Reuters)
For more news about events in Russia, see RFE/RL's webpage News and Features on Russia