Saddam Hussein's Lawyer To Request Adjournment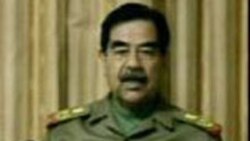 The current charges against Saddam Hussein relate to a 1982 massacre in the town of Al-Dujayl 18 October 2005 -- The lawyer for Saddam Hussein said today that he will request a three-month adjournment of the former Iraqi leader's trial for a 1982 massacre and will challenge the court's competence to hear the case, which is scheduled to begin tomorrow.
Hussein and seven senior members of his ousted regime face charges that they ordered the killings of nearly 150 people from the mainly Shi'ite town of Al-Dujayl following a failed attempt on Saddam Hussein's life.
The attorney, Khalil al-Dulaimi, told AP that he would ask during tomorrow's opening session for more time to prepare a defense and arrange for Arab and Western lawyers to join him on the defense team.
Al-Dulaimi said he met with Hussein for 90 minutes today at a location other than the usual place of detention for the ousted Iraqi leader. Al-Dulaimi would not elaborate.
Hussein's location has been kept secret since his capture by U.S. troops in December 2003. It is believed that he has been held at a U.S. facility at Baghdad International Airport.
Al-Dulaimi said Hussein's morale is high and that he is confident of his innocence.
(AP)
See also:

Iraq: Human Rights Watch Fears Justice May Not Be Served By Saddam's Trial

Iran Petitions Iraq On Hussein Charges
and
Iraq: Saddam Hussein's Trial Could Draw Line Under An Era