Saddam Lawyer Kidnapped In Baghdad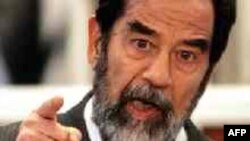 Hussein at the start of the Al-Dujayl trial (AFP) 20 October 2005 -- Security officials say a lawyer working on the defense team for ousted Iraqi President Saddam Hussein and other defendants was kidnapped in Baghdad tonight.
The officials say the attorney, whose exact identity is unclear, was abducted by armed men a day after Hussein's trial for a 1982 massacre of Shi'ites got under way in the capital.
During yesterday's opening session, Hussein and seven other defendants pleaded innocent to murder, torture, and other charges in connection with the killing of nearly 150 people from the mainly Shi'ite Muslim town of Al-Dujayl following a failed 1982 assassination attempt on Hussein in the town.
Hussein also said he did not recognize the authority of the court, and insisted he was still Iraqi president.
The trial is now in recess.