Suicide Bombers Attack Baghdad Hotel, Killing At Least 17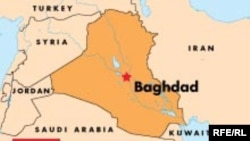 (RFE/RL) 24 October 2005  -- Three suicide bombers today staged what appeared to be a coordinated attack on a Baghdad hotel complex used by foreign journalists, killing at least 17 people.
The attackers first used a car bomb and then a cement truck filled with explosives to breach a concrete blast wall that separates the Palestine Hotel complex from Firdus Square in the center of the city. The cement truck exploded in a huge yellow ball of fire and smoke:
A third car bomb exploded on the opposite side of the square next to a mosque.
All of those who died -- including Iraqi police and civilians -- were outside the hotel.
Iraq's national security adviser, Muwaffak al-Rubay'i, called the attack a "very clear" effort by insurgents to grab journalists as hostages. He offered no evidence to support his claim.
British Foreign Secretary Jack Straw condemned the attack, saying the killings had been carried out in the name of a "totally perverted ideology."
(AP/Reuters/CNN)
For the latest news and analysis on Iraq, see RFE/RL's webpage on "The New Iraq"