Washington, 25 October 2005 (RFE/RL) -- The United States and Russia increasingly appear to be at cross purposes in Central Asia.
Uzbekistan is a prime example. It turned sharply away from Washington toward Moscow after Russia supported the Uzbek government crackdown in Andijon in May. (Timeline of the Andijon events.)
Following U.S. calls for an investigation of the incident, Tashkent called on the United States to vacate the Kharshi-Khanabad military base in six months. Uzbekistan then joined Russia and four other regional states in seeking a U.S. timetable to close down all bases in the region.
Russia and Uzbekistan last month held their first joint military exercises. Russian energy firms Gazprom and LUKoil have signed on to hundreds of millions of dollars in long-term investments in Uzbekistan.
To Russian foreign-policy strategist Aleksandr Dugin, this marks a rightful return of Russian influence to the region after the U.S. establishment of bases in 2001.
Dugin is a leading exponent of the "Eurasianist" approach to Russian foreign policy and has close ties with the Russian security establishment. He told RFE/RL that the "people power" revolutions in Georgia and Ukraine, seen as instigated by Washington, alarmed Russian foreign-policy circles. Those events, he said, effectively ended Russian-U.S. cooperation in Central Asia.
"After the events of the 'colored' revolutions in Georgia and in Ukraine, above all after the Orange Revolution in Ukraine, there are [no longer] any doubts in the political class as a whole concerning [the] contradiction -- basic contradiction -- of interests between the United States and Russia," Dugin told RFE/RL.
Competing Diplomacy
The U.S. administration has downplayed talk of competition with Russia in the region. But top U.S. officials have made a series of visits to Central Asia in the months since the Uzbek decision to evict the United States, promoting democracy and pointing to ongoing efforts to stabilize Afghanistan.
Secretary of State Condoleezza Rice was the most recent, visiting Afghanistan, Kyrgyzstan, Kazakhstan, and Tajikistan on 10-13 October.
U.S. Assistant Secretary of State Daniel Fried told RFE/RL the objectives Rice will be highlighting should be shared by Russia as well. "Stability comes ultimately from the legitimacy which is derived from democracy," he said. "If the Russians want stability -- and it certainly would seem to be in their interest -- they ought to support reform but again I'm not going to speak to Russian priorities. They can do that for themselves." (Read the full interview with Daniel Fried)
Fried also rejected the call made by Russia and others in the Shanghai Cooperation Organization to wind down the U.S. military presence. The group's communique in July suggested there was declining need for combat operations against the Taliban.
"There are good reasons to have these bases in the region which are supporting the efforts in Afghanistan, which surely serve the interests of the countries themselves and, if you think about it, serve Russian interests because the Russians also face a [terrorism] problem," Fried told RFE/RL.
Force For The Status Quo
But from Russia's standpoint, stability may mean maintaining the current authoritarian leadership in the region, ensuring business and other ties that will not upset the status quo.
That's the view of Kimberly Marten, a political science professor at Barnard College, Columbia University in New York. She told RFE/RL that in the current great power competition for influence in the region, Russia and China have an edge.
"If you want to look at it in 'Great Game' terms, the United States doesn't have the ability to compete against Russia and China in that kind of a Great Game because its domestic political culture and circumstances require it to pay attention to human rights and economic transparency in a way that Russia and China don't have to do," Marten said.
Playing Off Both Sides
A number of analysts see Uzbekistan as shrewdly balancing the needs of big powers to strengthen the regime's control.
Kyrgyzstan, home to both U.S. and Russian bases, has also proven adept at balancing off big-country interests.
The new government of President Kurmanbek Bakiev has assured the United States it can continue to use the air base at Manas but suggested Washington pay more for it. At the same time, Russia reaffirmed its long-term interest in maintaining a base at Kant, accompanied by millions of dollars in military aid to Kyrgyzstan.
Russia has also asserted a clear business presence in Kyrgyzstan. David Mikosz is a top official in Kyrgyzstan for the International Foundation for Election Systems, a nongovernmental organization that manages projects in civil-society development in Kyrgyzstan.
"People recognize that Russia has a lot more common interests, I think, in the economy. The United States is more interested, it seems, in cultural activities, the number of exchange programs, the American University [in Bishkek], those sort of things," Mikosz told RFE/RL.
Kazakhstan is another state in the region balancing a multidirectional foreign policy. President Nursultan Nazarbaev, who is up for reelection in December, recently affirmed Kazakhstan's intention to campaign for the chairmanship of the Organization for Security and Cooperation in Europe in 2009. He defined as priorities cooperation with Russia, China, the United States, and the European Union.
Read the other parts in the "Battle for Central Asia" series:
Oil, Diplomacy, And Military Might
China-Russia Bloc Challenges U.S. In Region
China Brings Electronics, But Not Democracy
Iran, Turkey Struggle To Influence Region
Background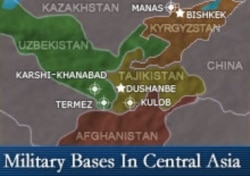 Click on the map for an enlarged image.