Russian Foreign Minister Departs For Middle East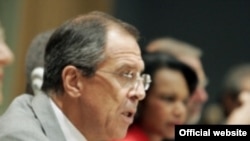 Foreign Minister Sergei Lavrov (file photo) (official site) 26 October 2005 -- Russian Foreign Minister Sergei Lavrov today departed for Israel and Palestine to discuss efforts to bolster the Middle East peace process.
Discussions with the Israeli and Palestinian leadership are also expected to include the situation around Syria and Lebanon, developments in Iraq and bilateral relations.
Lavrov is due to meet today with Israeli Deputy Prime Minister Shimon Peres, Palestinian leader Mahmud Abbas, and Palestinian Foreign Minister Nasser al-Qidwa.
Russia is a member of the so-called quartet that drafted the largely defunct Middle East "roadmap" peace plan, also backed by the European Union, the United Nations, and the United States.
(ITAR-TASS)