Yushchenko Withdraws Nomination For Prosecutor-General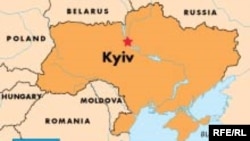 (RFE/RL) 31 October 2005 -- Ukraine's parliament speaker today said that President Viktor Yushchenko has withdrawn his recent nomination for the country's prosecutor general.
Parliament speaker Volodymyr Lytvyn says Yushchenko retracted his nomination of Vasyl Prysyazhnyuk to the post. Yushchenko nominated Prysyazhnyuk, currently deputy prosecutor-general, for the position on 29 October.
Lytvyn gave no reason for the withdrawal.
Yushchenko sacked the previous prosecutor-general, Svyatoslav Piskun, earlier this month. Piskun has appealed his dismissal.
(Interfax/AFP/ITAR-TASS)