Iraqi Civilians Reported Killed In U.S. Air Raid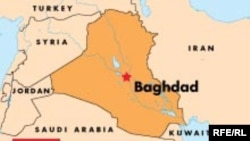 (RFE/RL) 31 October 2005 -- The U.S. military says U.S. aircraft carried out raids near the Syrian border before dawn today on suspected terrorist safe houses.
Germany's dpa news agency, quoting hospital officials in the western Iraqi city of Qaim, says at least 26 Iraqi civilians -- including women and children were killed in those strikes. Those figures could not be independently confirmed.
In other developments, six U.S. soldiers were reported killed in two separate roadside-bomb attacks. Four soldiers were killed near the town of Al-Yusufiyah, just south of Baghdad. Two other soldiers died in an attack near the town of Balad, 60 kilometers north of Baghdad.
(dpa/AP/Reuters)