Khodorkovskii Calls For New Political Elite In Russia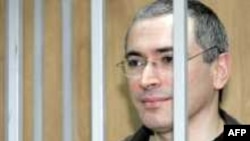 Khodorkovskii in jail during his trial in Moscow (file photo) (AFP) 2 November 2005 -- Mikhail Khodorkovskii, the jailed founder of Russia's Yukos oil company, is urging his supporters to help install a "new political elite" in Russia.
The call came today in a full-page advertisement in Britain's "Financial Times" newspaper.
Khodorkovskii, who has been jailed in Siberia since mid-October, says the Russian government tried not only to isolate him, but to "physically destroy" him.
He says the fight against what he calls the "supremacy of self-serving Russian bureaucrats" is "just beginning."
He says Russia needs to build its army and its legal system and restore its international prestige. For that, he says, Russia needs a new political elite of "heroes, not mediocricity."
A similar message appeared on Khodorkovskii's website last month.
Khodorkovskii was sent to a prison colony in eastern Siberia last month to serve an eight-year sentence for fraud and tax evasion. His supporters say the trial against him was politically motivated.
("Financial Times"/AFP)