Car Bomb Kills At Least 20 In Central Iraq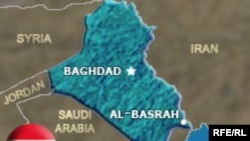 (RFE/RL) 2 November 2005 -- Iraq's Interior Ministry has said At least 20 people were killed and 60 wounded when a car bomb exploded near a mosque in the predominantly Shi'ite town of Musayyib, some 55 kilometers south of Baghdad.
The town was the scene of another suicide bomb attack in mid-July that killed more than 90 people.

In other violence today, at least 13 Iraqis were killed and 25 wounded in scattered attacks throughout the country.

Also today, the U.S. military said four American servicemen were killed in and around the restive western town of Ramadi, including two Marines who died when their helicopter crashed in the area.

The U.S. military also said air strikes destroyed three suspected Al-Qaeda safe houses in the area of Husayba, near the Syrian border.

Meanwhile, the Iraqi Defense Ministry today called on former officers of Saddam Hussein's armed forces up through the rank of major to join the new Iraqi army, which it said lacks experienced officers.
(compiled from wire reports)