"The presence of the United States' armed forces in this region is not, in any way, for domination or for what I would call 18th-century power politics," Abizaid said. "We have a sincere desire to be in the region to attack the problems of terrorism, the narcotics trade, and corruption because these are problems that are international, not the problems of a single state."
Abizaid spoke today in Astana after talks with Defense Minister Mukhtar Altynbaev.
He reiterated that Washington has no intention of establishing a military base in Kazakhstan unless a tense situation emerges in Central Asia and the Kazakh government requests the U.S. military to do so.
He also praised Kazakhstan's efforts to reform its military
(with Interfax/AFP/ITAR-TASS)

Background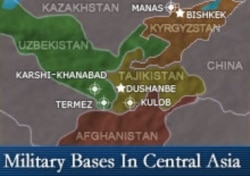 Click on the map for an enlarged image.