Al-Qaeda In Iraq Says Diplomats To Be Targeted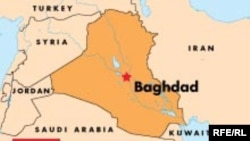 (RFE/RL) 4 November 2005 -- Al-Qaeda in Iraq has issued a new warning against foreign diplomats who are working in Iraq.
The message, posted today on an Islamic website, comes one day after the organization said it will kill two kidnapped Moroccan Embassy employees for collaborating with the United States.
The authenticity of the statement could not be confirmed.
The message reminds foreign diplomats that Al-Qaeda guerrilla fighters consider them valid targets.
Last year, Al-Qaeda in Iraq claimed responsibility for the kidnapping and execution of two Algerian and one Egyptian diplomat.
(AP)