The statement was published on the Internet and broadcast on Arab television satellite networks. It was signed by an Al-Qaeda spokesman in Baghdad. Its authenticity could not be immediately verified.
The statement said the hotels were chosen for the attacks because, quoting here, "the Jordanian despot [King Abdullah] turned into a backyard for the enemies of the faith, the Jews, and crusaders."
The explosions at the Grand Hyatt, Radisson SAS, and Days Inn hotels occurred within minutes of one another. Although the hotels are popular with foreigners, most of the victims were believed to be Jordanians many of whom were attending wedding celebrations.
Jordan's Deputy Prime Minister Marwan Muasher, expressed his outrage at the attacks.
"We are getting calls from a lot of countries, and everyone holds the same stance inside Jordan and outside Jordan," Muasher said. "These operations are brutal, cowardly, and terrorist. We have no option but to fight it with all of the power we have."
Jordan's King Abdullah cut short a visit to Kazakhstan to return home.
(compiled from agency reports)
Exclusive Interview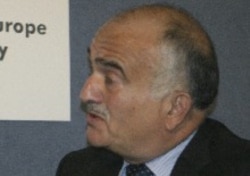 HIS ROYAL HIGHNESS PRINCE EL HASSAN BIN TALAL
of Jordan spoke to RFE/RL on 10 October, sharing his thoughts on the potential of Iraqi violence to destabilize other countries in the Middle East, including Jordan. For the complete interview,
click here.