Jordan's King Abdullah Arrives In Kazakhstan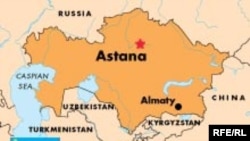 (RFE/RL) 8 November 2005 -- King Abdullah of Jordan arrived early Tuesday in Almaty -- the economic capital of Kazakhstan -- on a two-day visit.
The Kazakh Foreign Ministry told the AFP news agency that Abdullah is scheduled to meet Kazakh President Nursultan Nazarbaev later today for talks and the signing of several documents on bilateral cooperation.
The report provided few further details.
(AFP)