Russia: Taking Youth Policy To The Next Level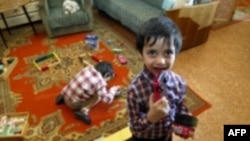 A future with the opposition? (AFP) The Russian government will soon consider the adoption of a 10-year youth policy.
The unofficial goal of this and other efforts is to prevent Russian youth from joining political opposition movements. The plans are unprecedented in scale and critics have questioned whether the money will be well spent.

Last week, the State Duma's public youth chamber approved a new Education and Science Ministry program, "Strategy for the State's Youth Policy in the Russian Federation from 2006-2016." Speaking to "Kommersant-Daily" on 3 November, Education Ministry adviser Anton Lopukhin said the cabinet will consider the program over the next month, and it will become the government's official policy only if ministers approve it. He added that he does not doubt that the program will win their approval.

The Money Issue
The main complication, according to Lopukhin, is how to arrange financing, since the 2006 federal budget has already been formulated. Lopukhin and other authors of the strategy have shied away from giving an exact cost for the programs outlined in the strategy, but "Kommersant-Daily" quoted an anonymous ministry source who suggested that "such an ambitious program will cost no less than 30 billion rubles [$1 billion] a year." In September, "Izvestiya" offered a similar figure of $1.2 billion based on the projected cost per participant in the program.

What might Russian youth get for all this money? There would be four main projects, according to "Kommersant-Daily":

One, a Russian Information Network would be created. The network would consist of websites and television and radio programming.

Two, an advertising campaign called New View would be launched to publicize universal human values such as "health, labor, tolerance, love for the Motherland, etc."

Three, the "Youth in Action" program would involve young people in civil-society institutions and in the "development of functioning youth clubs and affordable places to spend free time."

Four, the All-Russian Construction Brigade -- perhaps the most reminiscent of the Soviet Komsomol -- would draw youth into work on labor brigades and associations.

"Izvestiya" offered a similar list of projects supplemented with five additional programs.

Federal Resistance
If the reports are accurate, $1 billion a year would represent a considerable jump over previous official federal spending on youth. According to "Izvestiya" on 15 September, 815 million rubles ($28 million) was earmarked in 2005 for the Youth of Russia federal program, and more than 80 percent of that sum went for the construction of sports facilities.

"Izvestiya" quoted an Education Ministry official, Sergei Gril, who was pessimistic about financing this much more ambitious program. Gril said there is "an extremely unfavorable perception [among federal officials] of youth policies."

Gril's colleague, Lopukhin, explained to "Kommersant-Daily" two months later that the federal budget will contribute only one-fifth of the expenditures for the strategy -- the rest of the money will come from the regions and "sponsors."

If that is indeed the case, then such a youth program has a precedent in practice if not in scale. The Kremlin has been dabbling unofficially in youth politics since 2000. The pro-Kremlin youth group Nashi and its predecessor, Walking Together, have been financed through a similar combination of revenue streams -- all unofficially, of course.

In November 2001, Vasilii Yakemenko, leader of Nashi and founder of Walking Together, told NTV that Energomash, Russkii Aktseptnyi Dom, and other companies were Walking Together's financial backers. And, at a press conference last spring, Yakemenko stated "categorically" that he was "certain that the fatherland's large companies will support [Nashi]," "Novaya gazeta," No. 28, reported.

Nashi has also reportedly gotten generous support, financial and otherwise, from the state. "Nezavisimaya gazeta" reported on 28 April that Tver Oblast Governor Dmitrii Zelenin has funneled support to Nashi, which held a training camp in the oblast in July. According to the daily, Nashi activists were trained at a police facility in the oblast. And Nashi held its founding congress in a facility owned by the Academy of Sciences. Both Zelenin and Education and Science Minister Andrei Fursenko spoke at a Nashi inaugural congress.

Youthful Objectives
By enacting a federal program, Moscow would not only be enlarging the scope of its activities in the youth sphere, it would also be empowering bureaucrats at the federal and regional levels to monitor these larger financial flows. The question remains whether Fursenko's politically weak Education Ministry -- despite its contacts with Nashi -- is in the best position for receiving such a plum assignment.

In a recent interview with "Kommersant-Daily," political analyst Stanislav Belkovskii questioned whether the money spent on the program would provide results that are visible enough. "The goal of this program is understandable to me, and it consists of keeping youth from joining radical opposition groups," he said. "But I don't value the effectiveness of this program highly. It is too artificial, and youth needs something real and tangible."

Mariya Gaidar of the youth movement DA! agreed. She suggested that the money might be better spent on solving long-term problems, such as the lack of affordable housing and problems with the educational system.

If the practices of Nashi and Walking Together provided any guide to the future proposed youth programs, then participants may get housing subsidies in the form of direct cash payments. The Russian media is replete with accounts of participants in these groups' activities being paid just to show up.

SUBSCRIBE For news and analysis on Russia by e-mail,
subscribe to "RFE/RL Russia Report."