Three warring Afghan militia factions in Wardak Province put their disputes aside long enough in early 2002 to celebrate a feast together in the district of Chak.
Hundreds gathered to hear the first performance there of Afghanistan's national dance, the "Atan-i-Mili," since the Taliban silenced music five years earlier.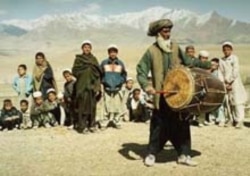 But only one elderly musician was found to play a double-sided Afghan drum called a dhol. There were no others to play the complex rhythmical counterpoints of the dance. And there was no one to play the traditional melody on the raspy, flute-like surnai. It was a sparse sound testifying to the state of music in southern Afghanistan immediately after Taliban rule.
Instead, militia fighters fired their AK-47s to the drumbeat in the way Western DJs use old records to perform "scratch" rhythms.
"Atan-i-Mili" performed with dhol and AK-47s
Within two years, after many Afghan musicians returned from lives as refugees in neighboring Pakistan and Iran, the sound of a full group playing the Atan-i-Mili would be common in Afghanistan again.
"Atan-i-Mili" performed with surnai
Life today remains difficult and dangerous for Afghan musicians. An ethnic Turkmen singer named Quarab Nazar was gunned down recently along with six of his backing group after performing at a wedding party in northern Jowzjan Province. Police say the attackers were Taliban fighters. The Taliban also is blamed for other recent attacks against musicians in the south and east of the country.
Still, classical Afghan musicians want to breath life back into their heritage after decades of war and repression.
Afghan music is an oral tradition. Students can trace the lineage of their knowledge through their teachers directly to the ancient masters. Folk melodies and the poetry of the ancient Afghan royal courts merged with elements of northern India's classical music in the 1860s when Afghan ruler Amir Sher Ali Khan brought Hindustani masters to Kabul as court musicians. So Hindustani and Afghan music are cousins, but with their own unique characteristics.
As an oral tradition, young Afghan musicians are meant to take tutelage for years under a single master -- an "ustad," whose pupils become their legacy.
Those oral traditions were uprooted along with the millions of Afghans displaced by war and factional fighting during the 1980s and '90s. Ustads and their students were separated as they joined the throngs of refugees fleeing to Pakistan or Iran. Musicians who remained in Afghanistan faced repression by some mujahedin factions as early as 1992. The Taliban broadened the restrictions into a total ban against performing or listening to music.
One classical master who stayed in Afghanistan through all those years is Attiqullah Sangin. Now in his late 50s, he has played an Afghan lute, called a rabab, since he was 12 years old.
Atiqullah Sangin playing "Halek Narai Chinar Dai" on rabab with Mohammad Hassan on tabla
Atiqullah Sangin performing on rabab
(Watch
video
of Atiqullah Sangin performing on rabab)
Considered the national instrument of Afghanistan, the rabab was the lute of the ancient royal courts. Its neck and body are carved from a single piece of hollowed wood. A tiny ivory or camel bone bridge rests on the face of the instrument, which is covered with the skin of a goat.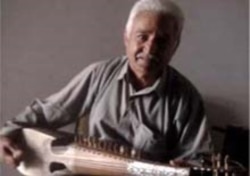 As a teenager, Sangin studied under Afghanistan's most famous 20th-century rabab virtuoso -- Ustad Mohammad Omar. Ustad Omar died in 1980 without witnessing the havoc wreaked against Afghan music. Sangin now is among a handful of musicians who carried direct knowledge from the revered rabab master through those turbulent times. He says the Taliban era was the most difficult as an artist.
"They would certainly punish me if they found out I was practicing or even listening to recordings," Sangin said. "Most of our musicians and singers went to Pakistan and Iran during those years. Fewer people remained here in Afghanistan. So we were not thinking much about music anymore. The Taliban had stopped music -- even in the context of [improvisational religious performances]."
Sangin watched the Taliban's "morality and virtue" police lock musicians into metal cargo containers because of their musical training. He says the Taliban would not hesitate to kill a musician caught performing or practicing an instrument.
"It was very hard for me. Music is like fire. If you just keep blowing air onto it, it will be fresh. Otherwise, it will soon die out," Sangin said. "During the whole five years, I left my rabab hanging from an arch. I couldn't play it [publicly] because I was afraid. My entire house had been destroyed [in earlier fighting]. We were staying in another house that we had rented. So it was impossible to practice [in that building without the risk of being punished]."
Still, Sangin says his need to play music was so strong that he sometimes risked death in order to practice in secluded places.
"Secretly I used to play. You know, one can't just practice rabab in only five minutes," Sangin said. "It is an instrument that requires a lot of practice -- at least an hour or so at a time. Anyway, I was practicing sometimes. But only in secrecy so that I would not get into any trouble."
The rabab Sangin now plays is a masterpiece of workmanship that narrowly escaped destruction by the Taliban. It is one of just three instruments from the old Radio Kabul collection that was not smashed by the Taliban. It was hidden -- literally buried beneath the ground for years -- along with a harmonium and a dhol that also survived.
It was very hard for me. Music is like fire. If you just keep blowing air onto it, it will be fresh. Otherwise, it will soon die out. -- rabab master Attiqullah Sangin
Mohammad Rasul was a production engineer at Radio Kabul when the Taliban destroyed the other instruments -- including an expensive piano that had been rebuilt by an Afghan master craftsman during the 1960s.
By keeping secret his skills and aspirations as a classically trained tambur player, he managed to keep his job when the Taliban transformed Radio Kabul into the Voice of Shari'a.
"At that time, I used to record songs without instruments -- national Islamic songs. So I worked here [for Voice of Shari'a]," Rasul said. "I didn't become a refugee. I didn't go anywhere. So I stayed here. I've done my work under any regime -- any government. It is my country. I'm not afraid of anything except God. I have served my country and my people."
Rasul practices the song "Let's Go to Mazar, Mullah Momad Jan" on his tambur in the former Radio Kabul studios, now owned by Radio Afghanistan. The instrument is similar in size and shape to a sitar. But on closer examination, rather than the raised metal frets of an Indian sitar, the tambur's frets are fashioned from strands of animal gut tied around the neck.
Like a sitar, there are also about dozen "sympathetic" strings. They are tuned to the traditional Afghan melody and vibrate without being touched, ringing from the harmonic overtones within the resonating chamber.
Rasul wears a metal plectrum on his right index finger to pluck the main melody strings using a technique similar to a sitar player.
Mohammad Rasul playing "Let's Go to Mazar, Mullah Momad Jan" on tambur
Sangin the rabab master recalls a feeling of disbelief when he got together with other musicians to play for the first time after the collapse of the Taliban.
"The first thing I did was to shave my beard. We had all been forced to grow long beards under the Taliban," Sangin said. "Then, three days after the Taliban left Kabul, I went to the studios of Kabul Radio. I found out that [the singer] Aziz Gaznawi was the head of the radio. And there was Nairez and Mudeer Rasool. Altogether, there were about five or six people there -- [and four of us were musicians.] We started to perform for some radio programs. It was like dreaming. When we first sat in front of a microphone, we thought we were still dreaming. Four musicians playing together! We felt like we were coming back to life again!"
Sangin says the freedom to play music has rekindled interest in the rabab among young Afghans. But he is concerned about the future of other classical Afghan traditions.
"Right now, the situation with musicians is very good [compared to the time of the Taliban]. But we don't have enough singers," Sangin said. "Those singers we had have become old. Many of our ustads have died. Our [traditional] music is not getting any encouragement. Young people are mostly interested in Western music. They are not very interested in our [traditional] music."
He is especially concerned about the future in Afghan music of an instrument called the dilruba -- a bowed string instrument with a haunting, mournful sound.
Students can trace the lineage of their knowledge through their teachers directly to the ancient masters. Folk melodies and the poetry of the ancient Afghan royal courts merged with elements of northern India's classical music in the 1860s.
"We no longer have many masters. So many ustads have died," Sangin said. "Some of them left [the country and have not returned]. We only have one master dilruba player in Afghanistan right now, and he is old. When he dies, all that [knowledge] will be lost."
Some of the old masters who survived by moving to the West are returning to pass on their knowledge. Among them is the famous tabla player Ustad Mohammad Asef. He is in his 60s and has lived in London for the past 14 years. Now, he has returned to his homeland to teach music for one year at Kabul University. Younger musicians also are returning with music they studied in places like Peshawar, Pakistan.
But many find their houses have been destroyed. And the income for musicians in Afghanistan often is barely enough to pay rent.
One man from a musical family who has found success in Kabul after returning from Pakistan is Ahmad Shah Ayubi. He is the son of the late Ustad Mohammad Ayubi -- a famous Afghan harmonium maker from Kabul who rebuilt the piano at Radio Kabul that was eventually destroyed by the Taliban.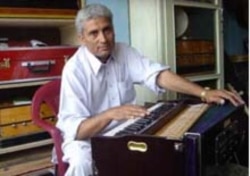 Ahmad Shah Ayubi continues his father's trade -- building and repairing harmoniums and other instruments at a shop he set up recently in the mostly destroyed musician's quarter of Kabul's old city. He says the repair business has been particularly good in the aftermath of the Taliban.
"I have repaired maybe 500 harmoniums here [in Kabul] and in Pakistan," Ayubi said. "I was in Pakistan [until] two years ago. Most people took their harmoniums with them to Pakistan [when they left Afghanistan]. So I repaired them there. And when we returned from Pakistan, I opened this shop here [in Kabul.] I like my business. And most Afghan people like music -- especially the harmonium."
Ayubi's confidence in the future is bolstered by the presence of his oldest son at the shop. His son is learning in the traditional way about harmoniums and other instruments -- and he is absorbing the classical Afghan melodies that his father plays.
Ahmad Shah Ayubi playing "Saraban" on harmonium
Mustafa Sediqi of RFE/RL's Radio Free Afghanistan contributed to this story from Kabul and Prague. Photographs by Ron Synovitz
Afghanistan's Musical Revival
Afghanistan's Musical Revival


BACK IN THE GROOVE Decades of war and the Taliban's five-year ban on music took their toll on Afghan classical music. Musicians have been trying to resuscitate the art since the end of Taliban rule. But they face serious economic and artistic challenges -- including the threat of possible attack by Taliban fighters if they perform in provincial areas...(more)


WATCH
View slideshow of Afghan musicians.
RealVideo