Iraq President Sees British Troops Withdrawal In A Year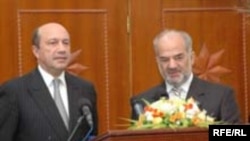 Igor Ivanov (L) with Iraqi Prime Minister Ja'fari in Baghdad on 13 November (RFE/RL) 13 November 2005 -- Iraqi President Jalal Talabani said today British troops could leave Iraq by the end of next year.
Speaking on British television in London, Talabani added, however, that an immediate withdrawal of foreign forces would be a "catastrophe" for Iraq.
In Baghdad, visiting Russian National Security Council head Igor Ivanov pledged to support Iraq in its fight against terrorism and to help rebuilding. He was speaking to journalists after talks with Prime Minister Ibrahim Ja'fari.
Also today, the U.S. military said it had detained 250 suspected rebels during operations earlier this month in the greater Baghdad area.
Meanwhile, Iraq's main Sunni Arab-backed party called for a halt to large-scale operations by U.S. and Iraqi security forces in the country. The Islamic Party says such operations are making the life of locals "hell."
(AFP/Reuters/AP)

SUBSCRIBE For weekly news and analysis on Iraq by e-mail,
subscribe to "RFE/RL Iraq Report."