Georgia Boycotts CIS Parliamentary Summit Over Visa Dispute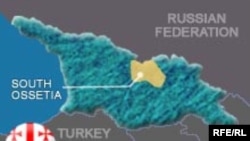 (RFE/RL) 16 November 2005 -- Georgian Parliament Speaker Nino Burjanadze today said she has decided to boycott a CIS parliamentary assembly in St. Petersburg on Thursday after Russian authorities reportedly denied a member of her delegation an entry visa.
Burjanadze announced her decision at a press briefing in Tbilisi. She said the Russian embassy in Tbilisi had refused to grant Georgian parliamentarian Givi Targamadze a visa to attend the two-day summit.
Targamadze, who chairs the Georgian parliament's defense and security committee, today claimed Russian authorities had blacklisted him.
There was no immediate comment from Russia.
Burjanadze was due to tell the CIS parliamentary assembly about Georgia's new proposals to settle its dispute with South Ossetia.
The plans calls for a greater involvement of the international community in the peace talks. Russia and South Ossetia protest against the Georgian proposals, arguing they are an attempt at sidelining Moscow.
(imedi tv/novosti-gruziya/civil georgia ge)