Bush And Putin Hold Talks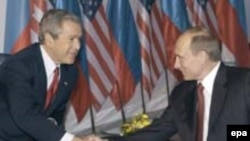 Bush and Putin at their Bratislava summit in May 2004 (epa) 18 November 2005 -- U.S. President George W. Bush and Russian President Vladimir Putin today met for an hour and discussed Iran, North Korea, and Syria, among other issues.
The two met in advance of today's Asia-Pacific Economic Cooperation summit in Busan, South Korea.
"Thanks, Vladimir, for hosting this meeting," Bush said to Putin as they entered the talks. "I always enjoy the chance to have a good discussion with you. You're right, we have a very important relationship. We value your advice and we value the strategic relationship we've built."
Bush aide Dan Bartlett said the U.S. president thanked Putin for putting forward a plan that would allow Iran to continue nuclear-fuel production if it shifts its most critical stage -- uranium enrichment -- to Russia as part of a joint venture.
The aide said the two presidents also agreed on the need to continue talks over North Korea's nuclear program, and for Syria to cooperate with an investigation to find the killers of former Lebanese Prime Minister Rafik al-Hariri.
(ITAR-TASS/Reuters/AP)