IAEA Says Iran Blocking Access To Military Sites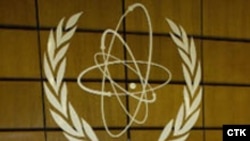 (CTK) 18 November 2005 -- The UN's nuclear watchdog, the International Atomic Energy Agency (IAEA) released a report today that said Iran is blocking UN nuclear inspectors from key military sites.
The report also said Iran handed over documents that contained detailed instructions on how to enrich uranium that could be used to make nuclear bombs.
The report did offer words of praise for Iran's increased cooperation with IAEA experts.
But IAEA chief Muhammad el-Baradei said in the report that "Iran's full transparency is indispensable and overdue."
In Paris, French Foreign Ministry spokesman Jean-Baptiste Mattei criticized Iran's decision to start processing a new batch of uranium. Mattei said the decision is a step in the wrong direction.
Iran confirmed today that it started converting uranium ore.
(AFP/Reuters/AP)

THE COMPLETE PICTURE: RFE/RL's complete coverage of controversy surrounding Iran's nuclear program.
CHRONOLOGY
An
annotated timeline
of Iran's nuclear program.