The accords, formally signed in Paris on 14 December, recognized Bosnia-Herzegovina as a sovereign state within its existing borders. But the accords created two entities: the Federation of Bosnia and Herzegovina (51 percent of the territory) and the Republika Srpska (49 percent). The entities have largely autonomous powers under a national government in charge of foreign and fiscal policy.
The accords also set timetables for holding elections and gave refugees the right to vote in their original place of residence. Since the agreement, some 1 million refugees have returned permanently to their homes.
All these measures -- along with war crimes trials and large-scale European financial aid -- were intended to help stabilize a fractured country and set the stage for its later transition to a fully unified multiethnic and democratic state.
That later transition is now the subject of intensive U.S.-led negotiations with leaders of Bosnia's main governing and opposition parties.
Washington is pressing Bosnia's leaders to adopt a new draft constitution that would weaken the powers of the country's two entities and strengthen the authority of the central government.
If Bosnian leaders agree to the new proposals, they are expected to travel to Washington for a signing ceremony that coincides with the Dayton Agreement's anniversary.
Meet The Newsmakers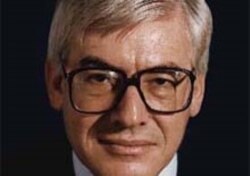 As part of its coverage of the 10th annversary of the Dayton Accord, RFE/RL spoke with Christian Schwarz-Schilling, who served as an international mediator in Bosnia-Herzegovina for nearly a decade and is now Germany's candidate to succeed Britain's Paddy Ashdown as the international community's and EU's high representative in Bosnia-Herzegovina.
(To listen the RFE/RL's interview with Mr. Schwarz-Schilling, click
here
for Real Audio or
here
for Windows Media.)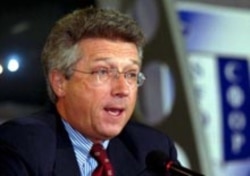 RFE/RL also spoke with Wolfgang Petritsch, the international community's high representative in Bosnia-Herzegovina in 1999-2002.
(To hear RFE/RL's interview with Mr. Petritsch, click
here
for Real Audio or
here
for Windows Media.)