Annan Pledges Help With Georgia's Separatist Issues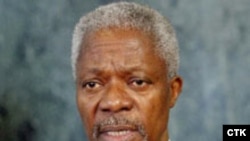 UN Secretary-General Kofi Annan (file photo) (CTK) 19 November 2005 -- UN Secretary-General Kofi Annan met with Georgian President Mikheil Saakashvili in Tbilisi today and promised to help that country deal with its separatist republics of Abkhazia and South Ossetia, RFE/RL's Georgian Service reported.
Those two republics both run their own affairs, but their self-declared autonomy is not recognized internationally. UN peacekeepers act as monitors on the de facto border between Georgia and Abkhazia.

Saakashvili has vowed to bring both regions under Tbilisi's control.

Speaking to reporters after his meeting with Saakashvili, Annan said the United Nations would continue efforts to find a solution to the problem of Georgia's breakaway republics.

Annan urged all sides to show patience and respect for the rule of law until a suitable compromise could be found.

Annan made a brief stopover in Georgia on his way from Pakistan to the United States.
(with additional wire reports)

SUBSCRIBE For weekly news and in-depth analysis on Armenia, Azerbaijan, Georgia, and Russia's North Caucasus by e-mail,
subscribe to "RFE/RL Caucasus Report."