The talks are expected to start by the end of the year, according to an EU statement in Brussels.
If successful, they talks will lead to formal EU entry negotiations.
Today's announcement came 10 years after the Dayton Accords, which ended the 1992-95 war among Bosnia's Muslims, Serbs, and Croats.
The members of Bosnia's tripartite presidency are expected to attend events in Washington today to mark the anniversary.
Bosnia will hold official ceremonies on 14 December -- the date in 1995 when the deal agreed in the U.S. state of Ohio was formally signed in Paris.
The war killed 200,000 people and created 2 million refugees, about half of whom have returned home.
(Reuters/AP/AFP)
Meet The Newsmakers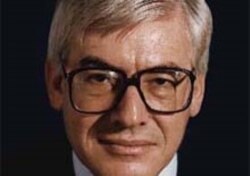 As part of its coverage of the 10th annversary of the Dayton Accord, RFE/RL spoke with Christian Schwarz-Schilling, who served as an international mediator in Bosnia-Herzegovina for nearly a decade and is now Germany's candidate to succeed Britain's Paddy Ashdown as the international community's and EU's high representative in Bosnia-Herzegovina.
(To listen the RFE/RL's interview with Mr. Schwarz-Schilling, click
here
for Real Audio or
here
for Windows Media.)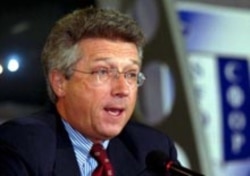 RFE/RL also spoke with Wolfgang Petritsch, the international community's high representative in Bosnia-Herzegovina in 1999-2002.
(To hear RFE/RL's interview with Mr. Petritsch, click
here
for Real Audio or
here
for Windows Media.)