Iran Urges Iraq To Set Withdrawal Timetable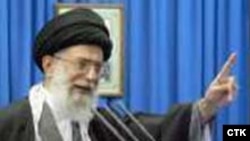 Ayatollah Ali Khamenei (file photo) (CTK) 22 November 2005 -- Iranian Supreme Leader Ayatollah Ali Khamenei has called on visiting Iraqi President Jalal Talabani to prepare a timetable for the withdrawal of foreign forces from Iraq.
Iranian state television today quoted Khamenei as holding the United States responsible for acts of terrorism in Iraq.
The Iranian leader promised Iraq -- Iran's former foe -- unlimited cooperation.
The Iraqi president, in return, said Iraq considers its neighboring country a "real friend." He paid tribute to the founder of the Islamic Republic, laying a wreath at the tomb of Ayatollah Ruhollah Khomeini, the founder of the Islamic Republic of Iran.
(dpa)