IAEA, El-Baradei To Give Nobel Money To Charity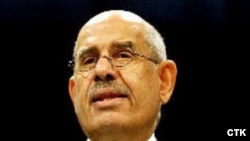 IAEA head Muhammad el-Baradei (file photo) (CTK) 25 November 2005 -- The UN's nuclear watchdog agency says it will give to developing countries the over half-a-million euros ($630,000) that it won with this year's Nobel peace prize.
The Board of Governors of the Vienna-based International Atomic Energy Agency (IAEA) agreed that the money should be used for funding the needs of developing countries in the peaceful application of nuclear energy.
A spokesman for IAEA chief Muhammad el-Baradei said he also would use "for charitable purposes" the money he received with the prize.
The Nobel Peace Prize, to be presented in Oslo on 10 December, jointly honored the work of the IAEA and el-Baradei as its head.
(AFP)

THE COMPLETE PICTURE: RFE/RL's complete coverage of controversy surrounding Iran's nuclear program.
CHRONOLOGY
An
annotated timeline
of Iran's nuclear program.