The former Iraqi dictator and seven top members of his former regime are charged in the killing of more than 140 Shiites in Al-Dujayl, north of Baghdad, in 1982. All have pleaded not guilty. They could face the death penalty if convicted.
The trial began on 19 October but was adjourned for 40 days to give defense lawyers more time to prepare. The lawyers are expected to seek yet another delay.
Two defense lawyers in the case have been murdered, while Iraqi authorities say they have broken up a plot to kill the tribunal's top investigating judge.
Police say eight alleged plotters from Iraq's Sunni Arab minority were apprehended on 26 November in the northern city of Kirkuk.
Meanwhile, British consular officials are investigating reports that at least two British nationals may have been killed today in an attack on a bus full of Shi'ite pilgrims near the Iraqi capital.
(compiled from agency reports)
The Presiding Judge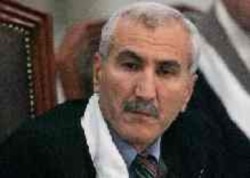 On November 11, 2005, RFE/RL's Radio Free Iraq (RFI) spoke with Iraqi Special Tribunal presiding Judge
Rizgar Muhammad Amin
about the trial of ousted Iraqi President Saddam Hussein and seven of his associates...
(more)