Iranian Islanders Recovering After Earthquake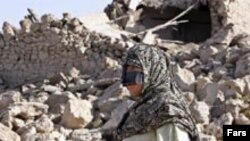 A survivor surveys quake damage on Qeshm Island on 27 November (Fars) 28 November 2005 -- Thousands of Iranians are today clearing up after an earthquake struck their island off the southern coast of Iran.
The quake rocked the Persian Gulf island of Qeshm on 27 November, killing at least 10 people and leaving many more injured. Rescue and relief workers are still helping those hurt to hospitals, and providing temporary shelter for those left homeless.
Iran sits astride several fault lines in the earth's crust, making it prone to frequent earthquakes. In December 2003, Iran's southeastern city of Bam was flattened by a massive earthquake that killed more than 30,000 people.
(AFP)