Prague, 28 November 2005 (RFE/RL) -- Former Serb President Dragan Cavic spoke in Sarajevo last year.
"I have to say that those nine July days of the Srebrenica tragedy represent a black page in the history of the Serb people," Cavic said. "The participants in this crime cannot justify themselves by anyone or anything. Those who commit a crime in the name of the nation commit a crime against that very nation."
Cavic was condemning the massacre of more than 7,000 Bosnian-Muslim men and boys in Srebrenica in 1995 by the Belgrade-supported Bosnian-Serb army.
"Yes, I will go," said Um Abbas, whose relatives were among those killed at Al-Dujayl. "Why not? I will go to testify about how he executed my brothers. How he killed them -- not only my brothers but Iraqis."
At the same time, some 1,500 other Al-Dujayl residents were sent to desert prisons and kept there in windowless, crowded cells for years.
Unchanging Anger
In both cases, the emotions generated by the massacre of unarmed civilians by soldiers is the same. There is anger with those directly and indirectly responsible and a revulsion that doesn't change with the passage of years.
Now, as the Hussein trial resumes in Baghdad, the former Iraqi dictator joins Slobodan Milosevic as one of only two former presidents to stand trial in this century for war crimes or crimes against humanity.
Former Bosnian-Serb President Radovan Karadzic is indicted for war crimes, but remains at large.
The trials of Hussein and Milosevic are taking place half a world apart and under very different circumstances. The Milosevic trial is being tried at the International Criminal Tribunal for the Former Yugoslavia (ICTY) in The Hague under international law.
Hussein -- whose trial began on 19 October -- is being tried by an Iraqi court in Baghdad under Iraqi law.
Fair Trial?
Still, comparisons between the two processes are inevitable and raise many questions. Foremost among them is whether Hussein's trial will be fair.
Richard Dicker is director of the international justice program of Human Rights Watch, based in the United States. He told RFE/RL by phone from The Hague that great care was taken to assure the ICTY conforms to international standards of justice. He says it is less certain Hussein's tribunal will do so.
"Clearly with the ICTY, and it is not perfect, there have been problems in regard to fair-trial issues at the ICTY, but every effort was taken to see that those appearing before it would get the maximum benefit of guarantees contained in international law to insure fair trial," Dicker said. "That hasn't been the case with the Iraqi Special Tribunal which is largely a creation of Iraqi law, which in some ways fall significantly short of those basic, due process, fair trial guarantees than any defendant should have in a criminal proceeding."
Dicker says one problem is the amount of time the Iraqi court has given to Hussein's lawyers to prepare their client's defense.
"You can't have a fair trial if the defense does not have adequate time and means to prepare a vigorous defense," Dicker said. "And certainly that's been afforded Slobodan Milosevic. It doesn't appear to be afforded Saddam Hussein and the seven others, and I expect today in Baghdad, perhaps, the defense lawyers will file a motion requesting more time to prepare."
How Long?
As the Hussein trial gets under way again, it remains uncertain how long the whole trial will take. Could it last as long as Milosevic's?
The ICTY has set no time limit on the Milosevic trial, and the proceedings have dragged on now for nearly four years. That is despite the desire of many in former Yugoslavia and outside to see justice done. By contrast, the Iraqi government has signaled it wants the Hussein trial to move quickly, partly to help end the insurgency in Iraq.
The United States has sought to assure the Iraqi tribunal operates fairly by providing advice to prosecutors regarding how to construct their case in accordance with internationally accepted legal standards.

"We will work with the Iraqis to develop a way to try him that will stand international scrutiny, I guess that's the best way to put it," U.S. President George W. Bush said on 15 December 2003. "The Iraqis need to be very much involved -- they were the people that were brutalized by this man."
How well the Hussein trial withstands such international scrutiny will play a large part in how it is eventually viewed by history.
Legal experts warn that unless Hussein's trial – and, indeed, Milosevic's – is seen as fair, the court proceedings will not have served their purpose. And that purpose is to show the triumph of law over arbitrary power, no matter who wields it.
The Presiding Judge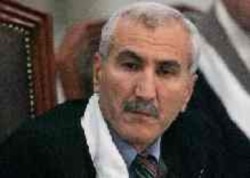 On November 11, 2005, RFE/RL's Radio Free Iraq (RFI) spoke with Iraqi Special Tribunal presiding Judge
Rizgar Muhammad Amin
about the trial of ousted Iraqi President Saddam Hussein and seven of his associates...
(more)