Georgia Pledges To Continue Reforms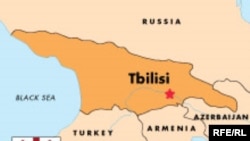 (RFE/RL) 28 November 2005 -- Georgian Prime Minister Zurab Noghaideli pledged today his country will continue reforms in an effort to secure a possible NATO membership.
Noghaideli was speaking at a news conference in Brussels after talks with the alliance's Secretary-General Jaap de Hoop Scheffer and NATO ambassadors.
De Hoop Scheffer, speaking at the same press conference, said that NATO's door "is open" but that Georgia still has a long way to go. He said NATO is ready to assist Georgia in implementing the reforms."
Needless to say that NATO's door is open. Needless to say that NATO will support Georgia wherever it needs assistance in implementing those difficult, difficult reforms. We realise there is a long, long way to go, but NATO is ready to assist," de Hoop Scheffer said.
Noghaideli will also hold talks with European Union officials during his Brussels visit, meeting European Commission President Jose Manuel Barroso on 30 November.
(Novosti-Gruziya/AP/AFP)