Turkey Arrests Two Paramilitaries Over Kurdish Bombing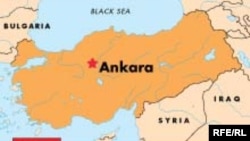 (RFE/RL) 29 November 2005 -- Turkish authorities have arrested and charged two soldiers on suspicion of involvement in a recent attack on a convicted Kurdish rebel.
The arrests bring to four the number of detained in connection to the 9 November bombing attack on a bookstore run by a former Kurdish guerrilla fighter in Turkey's Hakkari province. One person was killed.
The attack raised questions over whether Turkey has sufficiently purged rogue elements in its security forces that have been blamed for summary executions in their fight against Kurdish separatism.
(AP/AFP)