Prague, 30 November 2005 (RFE/RL) -- U.S. Ambassador to Iraq Zalmay Khalilzad was quoted in the 5 December issue of "Newsweek" as saying he has received explicit permission from U.S. President George W. Bush to engage Iran on matters relating to Iraq.
But State Department officials were quick to add that any such contacts would have no effect bilateral relations with the Islamic republic. The United States broke off diplomatic relations with Iran following the 1979 Islamic Revolution and the storming of the U.S. Embassy in Tehran.
Only Iraq
On 28 November, U.S. State Department spokesman Sean McCormack confimred that Khalilzad has received a mandate to discuss issues related to Iraq, but no other topics.
"It's a very narrow mandate that he has and it deals specifically with issues related to Iraq," McCormack said. "We have in the 6+2 context, previously engaged with Iran in that multilateral forum on questions related to Afghanistan. So there's precedent for this kind of engagement."

Diplomats from the two countries have reportedly held secret talks in Geneva over the situation in Afghanistan. In recent years there have been reports of number of unofficial contacts between officials and academics from the two countries.

It is not clear whether any meetings between Khalilzad and Iranian officials have been held or even scheduled. Iran has not confirmed that such a meeting will take place.
On 28 November, Iranian Deputy Foreign Minister for Parliamentary and Consular Affairs Hamid-Reza Asefi said talks with the United States are not on the agenda of the Islamic Republic.
Tehran's View
Despite such rhetoric, Dr. Sadegh Zibakalam, a professor of political science in Tehran, believes that Tehran is willing to negotiate with Washington over Iraq, but only if other issues are also discussed.
"Iranian officials are inclined, even though they might say the contrary, but they are definitely inclined to bring about peace and be instrumental for the United States to leave Iraq," Zibakalam said. "But the issue is what concessions the Iranians would want in return. The smallest concession the Iranians want in return for helping the West in Iraq concerns the nuclear issue -- the United States [must] lower its demands and let the enrichment process take place in Iran. [Iran] doesn't want the discussions to be related only to Iraq."
On 29 November, a leading Iranian English-language daily "The Iran News," called on Tehran to respond positively to the U.S. offer to hold discussions. Agreeing to such talks, the Islamic republic would be acting in its national interests, since, "The Iran News" noted, "an occupied country" like Iraq will never be in a position to make credible commitments to its neighbors.
But another Iranian daily, "Etemad," said conditions for a dialogue are not right. The Islamic republic considers the U.S. occupation of Iraq illegitimate, while the United States believes Iran is supporting terrorism in Iraq. Therefore the editors of the daily believe that finding a common ground between the two sides is difficult, if not impossible.
The New Tactic
Asked what "prompted the new tactic" of engaging Iran in Iraq, McCormack pointed to the proximity of the countries.
"I think that we -- well, I know that we have said in the past that we believe Iran and Iraq should have the kinds of relations that -- good relations that most neighbors enjoy, that those relations be governed by mutual respect and by transparency," he said. "So we would expect nothing less from Iran with respect to Iraq."
Some observers believe that the offer of talks shows that U.S. officials have come to the conclusion that stability and peace cannot be brought to Iraq without Iran's help.
Meet The Newsmaker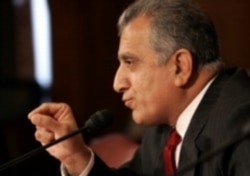 Shortly after assuming his post as U.S. ambassador to Iraq, Zalmay Khalilzad laid out his vision for that country in a major policy address. His plan called for a national compact enshrined in the constitution; the isolation and defeat of terrorists and hardcore Ba'athists and encouraging the region's leaders to address problems in a cooperative spirit and to pressure those who continue to foment instability
....(more)