Armenian Opposition Supporters Demonstrate Again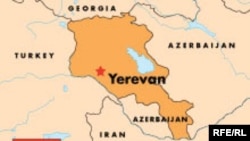 (RFE/RL) Yerevan, 2 December 2005 (RFE/RL) -- Armenia's opposition supporters rallied again in Yerevan today to protest against official results of the recent referendum on constitutional changes.
Our correspondent says an estimated 2,000 demonstrators took part in the peaceful protest. The leader of the opposition, Aram Sarkisian, said that police detained several of his party activists following the rally.
Earlier this week, electoral officials announced the final results of the 27 November referendum. They said 94 percent of voters who cast their ballots backed the amendments proposed by President Robert Kocharian.
The opposition accuses the government of rigging the vote.
Observers from the Council of Europe and the U.S. State Department have questioned the official 65 percent turnout figure.
(RFE/RL's Armenian Service)