The defense team was angered by the judge's refusal to let them voice their concerns on the legality of the trial.
As the lawyers left the court, Hussein and the seven other defendants began shouting at chief judge, denouncing the proceedings.
During the break, the authorities agreed to let one of the defense lawyers present their objections on the legitimacy of the trial, and the defense agreed to return.
Hussein and the other seven face charges of killing more than 140 Shi'ites after an assassination attempt on the ousted Iraqi leader in the town of Al-Dujayl in 1982.
(Reuters/AFP/AP)
The Presiding Judge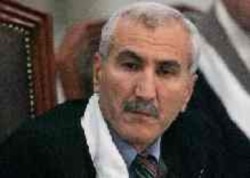 On November 11, 2005, RFE/RL's Radio Free Iraq (RFI) spoke with Iraqi Special Tribunal presiding Judge
Rizgar Muhammad Amin
about the trial of ousted Iraqi President Saddam Hussein and seven of his associates...
(more)