EU Criticizes Uzbekistan, Belarus, Turkmenistan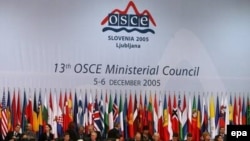 Ministers gathering in Ljubljana on 5 December (epa) Ljubljana, 5 December 2005 (RFE/RL) --- The European Union today urged Uzbekistan, Belarus, and Turkmenistan to honor their OSCE commitments on human rights issues.
EU spokesman Ian Pearson told an OSCE conference in Ljubljana that all three states are breaking the rules they accepted when joining the organization.
Pearson referred to Uzbekistan's crackdown on an uprising in its eastern town of Andijon in May. The OSCE was allowed to send observers to the first trial of those arrested, but not to subsequent trials. Pearson renewed the EU's call for an international inquiry into the incident.
Pearson said the EU again called upon Belarus to live up to its OSCE commitments on human rights.
Pearson said the EU continues to have serious concerns about the rights situation in Turkmenistan, and called on Turkmenistan also to implement its OSCE commitments.