Belarusian President Starts Three-Day Visit To China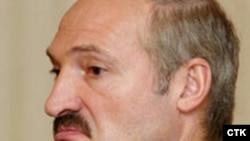 Belarus' President Lukashenka (file photo) (CTK) 5 December 2005 -- Belarusian President Alyaksandr Lukashenka today held talks with his Chinese counterpart, Hu Jintao, on the first day of a three-day state visit to China.
The two leaders signed a number of cooperation agreements on trade, tourism, and education.
The Chinese president praised what he called Lukashenka's "immense contribution" to developing ties between Beijing and Minsk.
Earlier in the day, Lukashenka visited a space technology academy in Beijing. The Belarusian president toured the academy's satellite assembly and testing center, and held talks with officials on developing scientific cooperation.
(Belapan/Xinhua)