Hussein Refuses To Appear In Court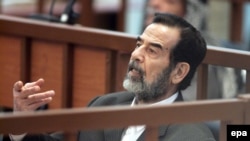 Saddam Hussein in court on 6 December (epa) 7 December 2005 – Saddam Hussein is refusing to appear in court on the third day of the trial of the deposed Iraqi leader.
Hussein says the court is illegitimate. At the end of the last session, on 6 December, he shouted: "I will not come to an unjust court! Go to hell!"
Defense lawyers today conferred with judges in the hope of resolving "procedural" issues.
Two more witnesses are due to testify today against the former Iraqi leader and seven other defendants accused of human rights atrocities.
Hussein and his co-defendants stand accused of killing more than 140 people from a mainly Shi'ite village in 1982 after an assassination attempt on his life. All have entered pleas of innocence. If found guilty, the defendants face possible execution.
(Reuters/AP/AFP)