Office Of Former Iraqi PM's Movement Set Ablaze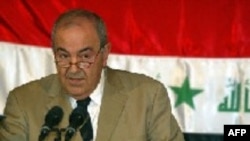 Former Prime Minister Iyad Allawi (file photo) (AFP) 8 December 2005 -- Gunmen have set ablaze an office belonging to the Iraqi National Accord party of former Prime Minister Iyad Allawi.
The gunmen overnight sprayed bullets in the air and torched the office in the Shi'ite city of Karbala, 80 kilometers south of Baghdad.
On 4 December, a hostile crowd in the nearby city of Al-Najaf threw stones, shoes, and tomatoes at Allawi, a secular Shi'a.
The United Nations has expressed "serious concern" over violence ahead of the parliamentary elections scheduled for 15 December.
(AFP/dpa)