Israel Should Be On European Soil Says Iranian President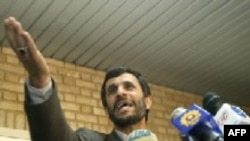 Mahmud Ahmadinejad (file photo) (AFP) 8 December 2005 -- Iranian President Mahmud Ahmadinejad today declared that countries that feel responsible for the killing of millions of Jews during World War II should host an Israeli state on their own soil.
The official Iranian news agency IRNA quoted Ahmadinejad as suggesting that countries such as Germany and Austria, as well as other Europeans that support the state of Israel in the Middle East because of the persecution of the Jewish people in Europe, should give land so that "the Zionists can establish their state in Europe."
He said Palestinians should not pay the price for this history of persecution.
Ahmadinejad made his comments at a news conference in Mecca, Saudi Arabia.
In October, Ahmadinejad called for Israel to be "wiped off the map," a comment that drew widespread international condemnation.
(AFP/Reuters)


SUBSCRIBE For regular news and analysis on Iran by e-mail,
subscribe to "RFE/RL Iran Report."